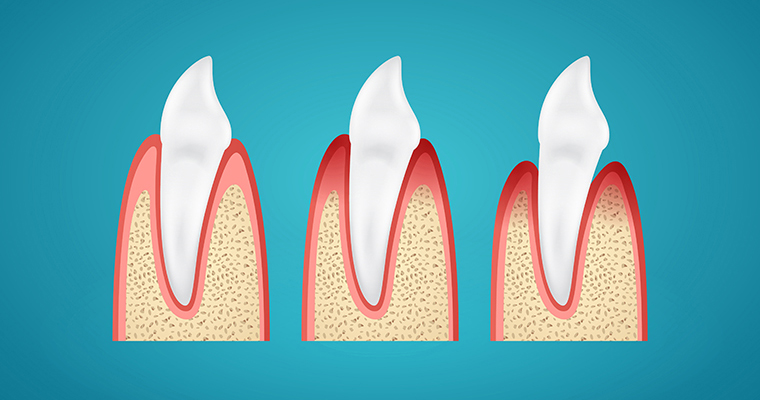 Gum disease is what happens when bacteria gets below the gum line and the attachment between the gum and tooth is lost. Gum disease is a silent and chronic bacterial infection that often goes undetected or ignored until severe gum and bone destruction is unbearable and no longer able to be ignored. Left untreated, gum disease can cause tooth mobility and tooth loss. Three out of four Americans have some form of periodontal disease and only 3 out of 100 will ever get treated before its too late.
Gingivitis
The longer plaque and tartar are on teeth, the more harmful they become. The bacteria cause inflammation of the gums that is called "gingivitis". In gingivitis, the gums become red, swollen and can bleed easily. Gingivitis is a mild form of gum disease that can usually be reversed with daily brushing and flossing, and regular cleaning by a dentist or dental hygienist. This form of gum disease does not include any loss of bone and tissue that hold teeth in place.
Periodontitis
When gingivitis is not treated, it can advance to "periodontitis" (which means "inflammation around the tooth"). In periodontitis, gums pull away from the teeth and form spaces (called "pockets") that become infected. The body's immune system fights the bacteria as the plaque spreads and grows below the gum line. Bacterial toxins and the body's natural response to infection start to break down the bone and connective tissue that hold teeth in place. If not treated, the bones, gums, and tissue that support the teeth are destroyed. The teeth may eventually become loose and have to be removed.
Periodontal Cleaning (Scaling & Root Planning)
Your dental hygienist will remove the plaque through a deep-cleaning method called scaling and root planing. Scaling means scraping off the tartar from above and below the gum line. Root planing gets rid of rough spots on the tooth root where the germs gather, and helps remove bacteria that contribute to the disease.